Europe Travel Map: an awesome road trip
Europe is amazing for a long road adventure! The countries are very diverse, the distances are relatively small, the cities are amazing and the nature is mindblowing. In this blog, we'll describe our most favourite road trip in Europe. You can find the Europe Travel map underneath.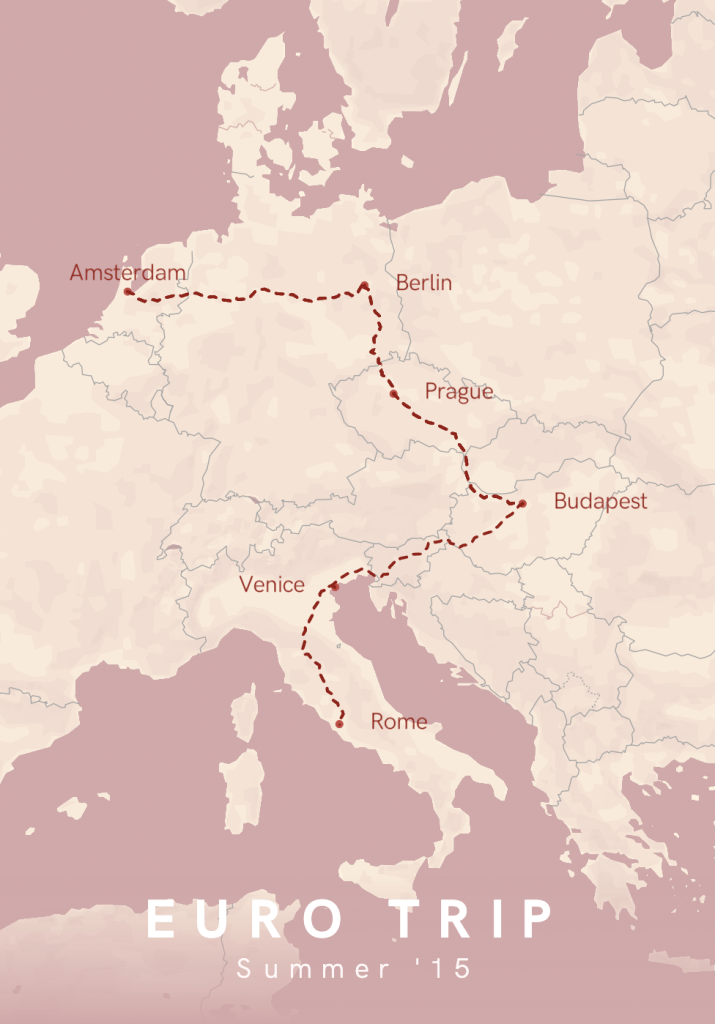 Amsterdam
Fall in love with the cute little street, the rich history and a boat ride on the canals. Rent a bike and explore the street like a local. If you're lucky to be in Amsterdam around December and January, make sure you pay a visit to the Light Festival.
Berlin
If we're talking about history, we have to talk about Berlin. Berlin is about a 6,5-hour car ride away from Amsterdam, but I dare you to do it faster. In Germany, most of the autobahnen have no mandated speed limit for normal cars, so you can drive as fast as you want. Be careful for those Porsches flying bye though. Once you've made it to Berlin, make sure you visit the Brandenburger Tor, Eastside Gallery and Alexanderplatz
Prague
Only 4 hours from Berlin you will find beautiful Prague. Prague is the capital of the Czech Republic and is famous for Charles Bridge, their Old Town and of course their affordable beer. There's plenty of bars to have a drink or two, the icebar is also worth a visit.
Budapest
You can cross 3 countries in 5 hours before you will arrive in Budapest. Budapest is great in summer since the Sziget festival takes over the city, a 7-day music festival with the biggest artist. If you want to take it a bit easier, go and explore one the beautiful and famous spa's in the city. Some of them are listed as the biggest in Europe!
Venice
After spending some time in Eastern Europe, it's time to suck up the sun in Italy. Venice, which is on the UNESCO list, is a great first stop since it's about a 7-hour drive from Budapest. Venice consists of 118 small islands that are linked together by over 400 bridges. Unfortunately, over the last few years, the city has very crowded with tourist, but it's still worth a visit!
Rome
There are so many beautiful places in Italy, but if you have to pick one, make sure you pick Rome. Make sure you spent a few days in Rome because the food and history are overwhelming. Visit the Colosseum, eat gelato on the edge of the Trevifountain and get amazed by the Pantheon.
Are you ready for your great adventure? Or have you already completed it? In any case, you can already start creating your travel poster by clicking here. Can't decide on the size of your map? Check our size guide.